This fantastic NOEL Christmas card is easy to make and really effective!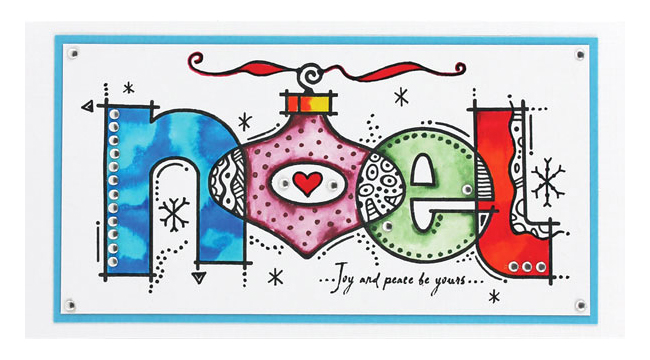 What you will need to make this card:
Plain white DL card blank
White & Light Blue Paper or Card
Woodware Clear Magic Stamp Single – Huge Noel
Large Acrylic Block
VersaFine Pigment Ink Pad – Onyx Black
Black Marker Pen & Watercolour paints, pencils or colouring pens
Mini crystal stick on gems
Double sided sticky tape
Paper trimmer or craft knife, cutting mat & ruler
How to make this card:
Cut a rectangle out of the light blue card / paper that is a bit smaller than the DL card blank, mount this to the front of the DL card blank using double sided sticky tape.
Peel the NOEL clear stamp off of the backing sheet and apply it to the acrylic block, also apply one of the small wording stamps underneath the NOEL stamp. Ink the stamps using the Versafine onyx black ink pad. Stamp the image onto a piece of white card. Once dry trim round the image so it is a rectangle shape that is a bit smaller than the light blue rectangle.
Using a black marker pen, add some extra patterns, dots, stars, snowflakes, hearts and a ribbon on the top of the bauble as shown in the picture or use your imagination to create your own design. Colour the image in using either watercolour paints, colouring pens or colouring pencils. A very delicate look has been created in the example shown above with the use of watercolour techniques.
Once dry mount the coloured image on top of the light blue paper/card rectangle using double sided sticky tape.
Finally use some sticky crystal gems to finish the card off.
Card idea by Woodware Craft Collection.